For the sake of Christ's Love: Devotional Commentary for March 4-10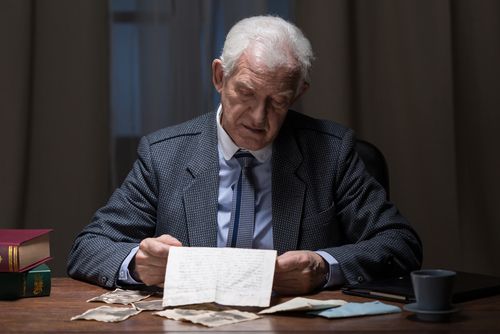 8-9
8Therefore, though I might be very bold in Christ to command you what is fitting,
9yet for love's sake I rather appeal to you—being such a one as Paul, the aged, and now also a prisoner of Jesus Christ—
As noted in last week's devotional meditation, Paul wrote to Philemon as a brother in Christ, commending him for his faith, love, and good deeds for the saints around him. The text in verse eight above comes as close as Paul would exert his apostolic authority over Philemon, nevertheless. He actually referred to Christ as his authority for summoning his apostolic prerogatives to issue instructions directing him what he must do. But Paul might have used such a strong language not only to contrast what he had done against what he could have done, but also to add significance to the subject matter of his letter.
So Paul laid aside his authority as the Lord's apostle. Instead, he alluded to his age—as the elder of the two, and his chains for Christ, adding a meaningful and significant value to his concerns. He chose to appeal to Philemon on the basis of Christ's Love; Love which is abundantly poured into the hearts of God's redeemed. In essence, Paul exhorted Philemon to let the Love of Christ instilled in him by the Holy Spirit govern his regenerated sentiments as he pondered what was asked of him.
10-16
10I appeal to you for my son Onesimus, whom I have begotten while in my chains,
11who once was unprofitable to you, but now is profitable to you and to me.
12
I am sending him back. You therefore receive him, that is, my own heart,
13
whom I wished to keep with me, that on your behalf he might minister to me in my chains for the gospel.
14
But without your consent I wanted to do nothing, that your good deed might not be by compulsion, as it were, but voluntary.
15
For perhaps he departed for a while for this purpose, that you might receive him forever,
16
no longer as a slave but more than a slave—a beloved brother, especially to me but how much more to you, both in the flesh and in the Lord.
Now the subject of Paul's letter was brought into focus. He wrote to Philemon about Onesimus, his slave. Paul identified Onesimus with three distinctive relational factors:

First, he said that Onesimus was his son; his spiritual son whom he had begotten while he was in prison.
Second, he acknowledged that Onesimus had become unprofitable to his master Philemon probably because he rebelled and became a runaway slave; a rebellious fugitive.
Third, he affirmed that Onesimus was now a changed man who had become profitable both to his master Philemon and to Paul his spiritual father in the Lord.
So Paul appealed to Philemon to receive Onesimus back into his household, but this time as Paul's spiritual son, not as Philemon's former runaway slave. Paul was fully aware of the laws and cultures of the time regarding the absolute authority masters wielded over their household slaves. He did not contest Philemon's socially accepted position as a slave owner. But he broached the subject of Onesimus's restoration from the vantage point of a superior perspective; the perspective of God's Love.
By means of Paul's letter to Philemon, Onesimus was now being reacquainted with his master both as Paul's spiritual son and as Philemon's brother in Christ. Therefore, the former runaway slave had now become a useful and reliable servant and brother. So Paul sent him back home to his master, pleading for his restoration into the household as a brother of faith, love, and service; godly attributes for which Philemon himself was known in his community.
With artful and deeply compassionate words, Paul appealed to Philemon's transformed conscience surpassing the offense which disappointed the flesh. With tenderness and sensitive understanding, Paul combined godly conviction with Christ's compassion and appealed to Philemon's heart, acknowledging Onesimus's new worthiness in Jesus Christ without derogating Philemon's authority as the master.
Paul asked Philemon if he would receive Onesimus as one sent from his own heart. That is, he entreated Philemon to give diligent deference to the accord they have as brothers in Christ , while considering his response regarding Paul's request on behalf of Onesimus. Now at peace with His Creator and Redeemer, Onesimus was no longer an enemy. He became a brother in Christ.
In fact, Paul did not hesitate to express his wishes to have kept Onesimus as his personal aid. But reconciling the two brothers in Christ was more important to him than taking advantage of a broken relationship. So he opened the door of reconciliation without any coercion or apostolic injunction.
Paul pondered that Onesimus's departure from home could have been providential. Perhaps God wanted him to learn that his own search for earthly freedom was fruitless, and having directed his steps toward Paul in Rome, the Lord blessed Onesimus with the true freedom of God's redemption. Now a new man in Christ, Onesimus became by far a more valuable member of Philemon's family both as a co-worker in ministry and a household help.
It was now up to Philemon to respond in Love and faith, which he himself had received from Jesus Christ our Lord and Savior, and for which he was known in his community. the offended Philemon can now return good for evil: the offender Onesimus can repent with a renewed heart: and, Paul the peacemaker, bridges the gap between two hearts.
Notes/Applications
The letter to Philemon reveals a little-exposed-aspect of Paul's personality. Previously known as Saul the ruthless persecutor of the church of Jesus Christ, Paul was now not only a zealous minister of the Gospel, but also a loving, patient, generous, and a peaceable man of God whose unquenchable longing was to see the power of the Gospel fully at work in the lives of the followers of Jesus Christ. That was exactly how he confronted Philemon regarding the restoration of Onesimus back into his family.
Paul appealed to Philemon, not merely in the context of human friendship and mutual regard, but in the framework of the oneness they shared in Christ. Paul was an itinerant evangelist and a church planter: Philemon was a wealthy Colossian: and, Onesimus, he was just a slave. But now, all three were one in Christ. They were indwelt by the same Spirit of God; the same Holy Spirit. Previously, the facts which divided them were proportionately more, than what united them. But now, the power which made them one is much stronger than everything else outside of them. It is the power of the Gospel, the Power of Christ's uniting Love.
So Paul took up the cause of a runaway fugitive and initiated a restorative conversation with the rightful owner to reconcile master and slave on a completely different and new realm of relationship. Paul spoke to Philemon's redeemed heart out of his own redeemed heart. It was a conversation of love between two hearts bound by the Love of Christ. But this Love was neither Paul's nor Philemon's to give or to withhold. It was Christ's to share. Therein lies the Power of the Gospel; the Power of Christ.
The Love that they held in common, the Love that inextricably bound them together so tightly that they were virtually one in faith and love, the Love that Jesus Christ had given to Paul, Philemon, and Onesimus is not influenced, defined, or in any way characterized by earthly complications. That is the Power of God's Love which Paul invoked to tear down the wall of separation between master and slave. The same God Who remedied the broken relationship between Himself and His children, continues to heal broken relationships among His children. The same Love, the same Power is still at work today, calling God's children to live and serve as one in Jesus Christ. The same Love that binds us as one also compels us to serve one another, to care for each other, and to respond to evil with the goodness of Christ.