Devotional Commentary for December 3-9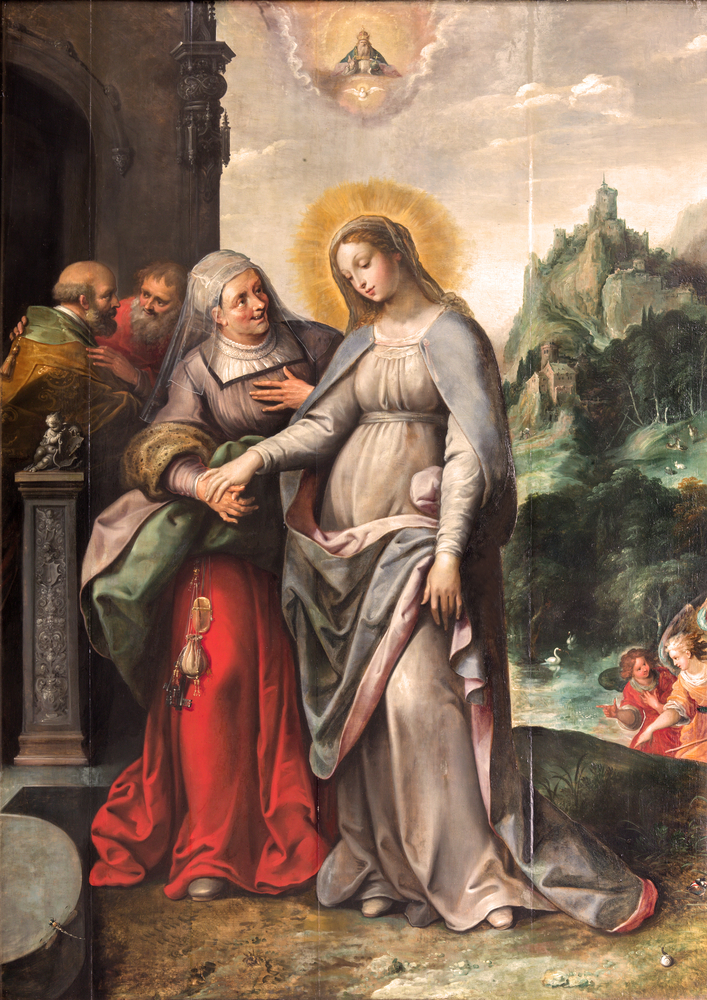 It is the season of our Savior's birth. It is a familiar story. We know the main events and recall major occurrences. But at times, we miss significant details which seem less momentous but very important! Here is a portion from Luke's record, where we observe the Power of God's Good News at work in the hearts of those who are content with the Will of God in their lives:
1:39–40
39Now at this time Mary arose and went in a hurry to the hill country, to a city of Judah,
40and entered the house of Zacharias and greeted Elizabeth.
Soon after the angel Gabriel left her, Mary went to the hill country in Judea to visit her relative Elizabeth. Understandably, Mary would have been curious about Elizabeth's pregnancy in her senior years. Perhaps, she wanted to confirm Gabriel's words concerning Elizabeth and to tell her about her own unusual encounter with the same angel, Gabriel.
Mary undertook a long journey away from home to be with her relative Elizabeth and ponder all that was taking place in their lives and what it all meant. As soon as she arrived at Elizabeth's home, Mary saluted her senior relative with reverence and humble demeanor in keeping with the custom of the times and of the region.
1:41 When Elizabeth heard Mary's greeting, the baby leaped in her womb; and Elizabeth was filled with the Holy Spirit.
When Mary's voice echoed through the house, Elizabeth felt the baby kick in her womb. Elizabeth was moved with Joy unspeakable because she was filled with the Holy Spirit. Mary's salutation was magnified by the manifest presence of the Holy Spirit. It was not an ordinary common greeting. It was the voice of Joy and worship.
The Holy Spirit moved upon both women and the infant in Elizabeth's womb. Both women and the baby responded with Joy to the moving touch of the Holy Spirit. This unusual occurrence had nothing to do with either of the women. This was the testimony of God's power and presence upon both women whom He had chosen for the revelation of His glory.
It is most likely that Jesus was miraculously and divinely conceived immediately upon Gabriel's departure or shortly thereafter. So by the time Mary arrived at Elizabeth's home, she was, in all probability, already pregnant by the overshadowing filling of the Holy Spirit. Mary's joyous salutation conveyed to Elizabeth's heart the delight of God's glorious presence within her.
The same Holy Spirit Who filled Mary also came upon Elizabeth and caused the infant in her womb to worship the Son of God in Mary's virgin womb. Indeed, it was glorious, joyous, and a moment of exceeding delight. It was indescribable. Here is how Elizabeth expressed her worship with words that painted a vivid picture of the Spirit's moving touch:
1:42-45
42And she cried out with a loud voice and said, "Blessed are you among women, and blessed is the fruit of your womb!
43"And how has it happened to me, that the mother of my Lord would come to me?
44"For behold, when the sound of your greeting reached my ears, the baby leaped in my womb for joy.
45"And blessed is she who believed that there would be a fulfillment of what had been spoken to her by the Lord."
Elizabeth was ecstatic at Mary's arrival and answered her salutation with excitement. Her response was different from the common expression used when exchanging greetings. Because the Holy Spirit had come upon her, Elizabeth's response was more of a prophetic proclamation than answering a common greeting.
There is no record that Elizabeth had prior knowledge about Mary's pregnancy. However, Elizabeth spoke of the child in Mary's virgin womb, as if she knew! But she did! Didn't she? It was revealed to her. She called them both—mother and Child—blessed. Elizabeth's words were not her own. They were inspired by the Holy Spirit, Who filled her as soon as Mary's salutations echoed throughout the home. This was a divine appointment during which Jesus, newly conceived, caused an occasion of great Joy between two women of no renown serving God's glorious purpose in their lives.
Elizabeth felt honored and blessed because Mary visited her, even though this was not merely Mary, the little girl she knew. Elizabeth acknowledged Mary, saying, "The mother of my Lord." (V.43) Elizabeth knew that the baby she carried was the forerunner of the One that Mary carried. Elizabeth acknowledged that the unborn child in Mary's virgin womb was her Savior; indeed, the Savior of the world.
The reaction of the baby in her own womb gave Elizabeth a reason for joy. She told Mary that, as soon as Mary's voice echoed in her ears, the baby in her womb literally jumped for joy. (V.44). When the Holy Spirit came upon her, Elizabeth realized that her unborn baby was actually worshiping his Master in Mary's virgin womb.
Elizabeth commended Mary for believing God's Word as delivered to her by the angel Gabriel. She assured Mary that God is faithful and everything He declared by the mouth of the angel would take place exactly as promised. Elizabeth spoke from experience. She knew God had disciplined her husband for doubting God's messenger. She also knew that what the angel said to him had actually come to pass because she was already six months pregnant. Elizabeth believed God's promise and lived to see its fulfillment in her own life.
Notes/Applications
Mary had already accepted God's will and plan for her life. She did not require any proof. She accepted Gabriel's words by faith and acknowledged God's sovereignty with a submissive attitude even though she did not understand how Gabriel's words could be true.
She could have simply stayed home quietly waiting for the fulfillment of the words of the angel Gabriel. She could have just remained silent, staring into her future and pondering what the next moment might bring.
But no! Nothing could hold her back. She was filled with the joy of the Lord and could not stay put. She went to Elizabeth's home to commune with her in person and to celebrate the favor of the Lord that had rested upon both women. Both Mary and Elizabeth could not and did not hide the Lord's testimony in their lives.
When Christians assemble, in large groups or small, the Joy of the Lord should be evident in everything we do and say. That joy should permeate the atmosphere of the whole assembly and the heart of every individual gathered to worship. Ignited by the moving presence of the Holy Spirit, our Joy in the Spirit is directed in worship toward our Lord and Savior; the baby in Mary's virgin womb.
Like Mary and Elizabeth, the Holy Spirit keeps drawing us to Himself so that we might fellowship with our Father in a worship divinely designed by Him Who is worthy of worship. So let us unite our hearts with joyful worship therefore: For the Lord has commended His love toward us, in that, while we were yet sinners, He came in the flesh as a human baby so He might be the way, the only Way, to bring the lost home to our Father, our Redeemer.