By Practical Christianity Foundation (PCF)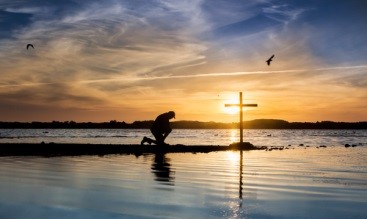 Coining a title for this blog was not easy. When asking, "how do we live or act as Christians?", the phrase "living, or acting" as a Christian seems to suggest that the issue in question is learning how to mimic the Christian way without being one. Most certainly, that is far from the objective of this blog. What we are contemplating here are the transforming changes which revolutionize the believer's life, making it a spiritual outlet through which the person and the character of Jesus Christ are reflected.
To be sure, the objective we just set for this blog draws our attention to yet another popular expression which often gets Christians excited because of its sense of promising fulfillment and the potential for rich spiritual experience. Yes, we are thinking of the famous quote by the seventeenth century English author William Penn: "To be like Christ is to be a Christian". While the Scriptures embrace the idea of "Christ-likeness" in some fashion, one should be careful not to slip into an unbiblical expectation of becoming like Christ. That is, we should temper our expectations with godly wisdom so that we don't vainly and presumptuously work toward being a clone of Christ.
So, while Mr. Penn's enduring remark might be arguably valid, we cannot surmise from it, that our Christianity is questionable unless we are like Christ. No one can be another Christ, nor can we be like Christ in that sense. Not only is it impossible to be another Christ, but also our regeneration into the new birth in Christ is not qualified by anything we do or don't do. That is, neither our new birth in Christ nor our perseverance in faith are the fruit of anything we do or don't do. They are not contingent upon who we are or who we are supposed to be. Our new identity in Christ and our new path of life are the outcomes of God's gracious work in our hearts and lives. It is altogether the gift of God.
We understand the above statement is a mouthful and controversial and must, therefore, be unpacked to some extent:
First, the Scriptures unequivocally teach us that, while yet we were dead in our sins, Christ died for us and initiated the work of His redemption in us. Our salvation did not result from our actions or behaviors. God Himself out of His own divine pleasure initiated and executed our salvation a person at a time.
Second, God Himself preserves and sanctifies those whom He has saved for Himself. Therefore, God Himself does the work of our redemption and perseverance as He continues to transform us into the image of His Son, in the end.
So, the process of making us Christ-like is the work of God as He makes us holy, righteous, and complete in Jesus Christ. therefore, Christ-likeness is not a must-do cause resulting in the effect of our Christianity, rather, it is an inseparable aspect of our Christianity accomplished by God, and Him alone! There is no cause and effect relationship between Christ-likeness and our Christianity.
Now, does that mean we are not responsible to conduct ourselves as Christians or live as Christians? Surprisingly, we say yes and no!
No, because our life is completely controlled and governed by God from before the foundation of the world throughout eternity. While we are given certain prerogatives to express choices, make decisions, and take actions within the realm of our human capacity, we cannot do anything on our own and be right or godly apart from God Who sovereignly rules over all things. All of our choices, decisions, and actions are consequential.
Yes, because we are subject to the Law of the new life which directs our new life in Christ because old things are passed and behold all things have become new. that is, we are responsible to respond in obedience to the guidance of the Holy Spirit and the admonitions of the Scriptures.
Finally then, neither Christ-likeness nor Christian living are goals we can or must achieve on our own. Rather, Christian living is a new way of life graciously given to us as the privilege of being God's redeemed children bought with the precious blood of the Lamb as Christ Himself lives out His life in us reflecting a maturing Christ-likeness till we are ultimately conformed to His image.
Indeed, we are a blessed bunch! Sadly, we don't know it, and consequently, we toil to earn what we are given. If we are Christians indeed, we don't even have to think about it. Even though our sin nature continues to rise and fall as episodes of our struggles, life as a Christian is the only choice given to us because:
We are created, redeemed, and owned by God;
Our life is planned and directed by God;
The life we now live in the flesh is not us but Christ Who live His life in us.
Such is the Christ-likeness the Bible speaks of, in that, the person and the character of Jesus Christ will be reflected in our maturing new life as His Spirit works-out in us the life of Jesus Christ our Lord and Savior. So, how do we become Christ-like and live as Christians? We don't! By the power and grace of God we surrender and resist the temptation to run our lives, and instead, respond to His leading in obedience to the biblical precepts and the direction of the Holy Spirit. That is the will of God for us. Jesus Himself said His work is to do the will of His Father Who sent Him. In that case, if the life of the obedient Christ is lived-out in us by the Spirit, then we too shall live a life that is Christian and pleasing to God.
Here at Practical Christianity Foundation we believe that God has mercifully extended His Grace toward us and has given us His living and Holy Word to guide us in our journey in this world. We count it privilege to come alongside you and minister to you through prayer and the sharing of God's living and holy Word. Please contact us if you have any questions concerning your faith and journey as a Christian.
We encourage you to frequently visit our website where you can find weekly devotional readings and helpful blogs.