by Practical Christianity Foundation (PCF)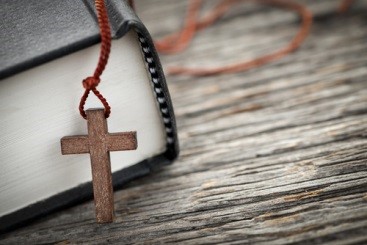 Temptation is all around us. Every waking moment of each day of our lives is filled with irresistible attractions which lure us into a life of indulgence, bad decisions, and inappropriate behavior for Christian-living. Whether we feel betrayed by our own weaknesses, swept away by the irresistible influences of people and circumstances, or overwhelmed by satan's enticing appeals, temptation is not something we should face alone. David knew a thing or two about temptation. He knew that temptation causes us to sin against God. So he wrote under the inspiration of the Holy Spirit that he treasured God's Word in his heart so he would not sin against God.
Taking our cue from David, our strongest defense against temptation comes only from the pages of the Holy Bible, God's living Word. Here at Practical Christianity Foundation we recommend a consistent regimen of devotional study or reading so that we might be equipped to resist temptation by drawing nearer to God every day.
Jesus knows that temptation can be overwhelming, and can cause Christians to conduct themselves in ungodly ways. That is why He fought back satan's temptation with the only winning weapon, God's living Word. In whatever way sin manifests itself in our lives, a spiritually starved heart will be an easy prey for all sorts of temptations.
So, Here are some basic thoughts which will help us follow the only perfect example set for us by Jesus Christ:

Knowing our God and ourselves: We must diligently search the Scriptures to gain a healthy understanding of the holiness of God and our own sin-nature. That will reveal to us that the significant difference between God and us is that He hates sin and we love to sin. Therefore, we are naturally inclined to yield to temptation. We will also learn from the Scriptures that the only weapon against temptation is the Word of God.
Coming to terms with our weaknesses: The Word of God is like a mirror. When we diligently search the Scriptures, we understand ourselves better and will be able to honestly identify our weaknesses which make us vulnerable to all sorts of temptations. But the Bible also shows us the means by which we can resist temptation instead of slipping into denial and become more vulnerable.
Recognizing our true makeup: Once we, like Paul, learn our true natural identity and the new identity we have in Christ, then we will be encouraged to apply the truth we learn from the Bible and face our vulnerabilities. We won't be accommodating them or surrendering to them. Knowing the truth about ourselves will help us identify our natural tendencies which serve as trigger-points making us susceptible to temptation.
Walk by faith and not by sight: We should take God upon His Word and lean on Him for our victory over temptation as the Holy Spirit nurtures in us the faith He instilled in us. The deeper complexities of prevailing over temptation can only be discerned by faith through a consistent meditation on the Word of God. God's truth will be God's strength in us, causing us to adopt godly and healthy ways of managing our fears and weaknesses.
Let faith do its work in us: In order to prevail over sin and temptation, we must trust what God says in His Word the Bible where we are repeatedly exhorted to resist temptation by drawing closer to God and by avoiding all appearance of evil. We can resolve to resist temptation only when we lean on God's promises to strengthen us. Without God's Power at work in us, we are always drawn to our natural tendencies and our strongest inclinations. So we need to take Christ's promises and act on it by faith, simply because our struggle with temptation is a life-long journey. With Christ it is a journey of steadily growing victory. Without Christ, it is a life of defeat and despair.
We invite you to contact us at Practical Christianity Foundation for information on devotional study publications, blogs, and Devotional readings which present the Scriptures with verse-by-verse comments focusing on the message of the text at hand.
Remember! The only way to effectively resist temptation is to follow the way God has prepared.